About Us
Green Wave Pest Solutions
Whether you are looking for budget-friendly ongoing monthly pest control, or you need immediate help to eliminate a total pest infestation, Green Wave Pest Solutions can help you wage war on your pest population. 
We Are Your Mountains Edge Pest Control Experts
Welcome to Green Wave Pest Solutions and thank you for paying a visit to us today. We are a pest solutions company focusing on pest control Nevada. We've been working in locations all throughout Clark County for many years with hundreds of pleased consumers. Our goal is to exceed your customer assumptions and make your personal referral.
For large projects, like a brand-new house pest control, almost everybody would agree that a highly skilled company knowledge able pest infestation Nevada would be needed.
We only pick professional and experienced staff who have gone through our comprehensive vetting process and also who have:
Appropriate experience
Expert interaction skills
Mission statement: The goal of Green Wave Pest Solutions is devotion to the highest quality of client service supplied with a feeling of comfort, kindness, personal satisfaction, and also company spirit.
Why Choose Green Wave Pest Solutions
The devotion to meet our consumer's requirements is what comes first for us.
Common Household Pests We Treat
All Cockroaches
Silverfish
Spiders/Black Widows
Crickets
Scorpions
Ants

Mice
Centipedes
Millipedes
Pigeon Control
Wasps, and Hornets
Snake Control
Our team of highly trained, licensed, insured and experienced Nevada pest exterminators and control technicians is dedicated to helping you keep your home safe from unwanted pests.
Residential and Commercial Pest Extermination Estimates
Outdoor Services for Pest Management
From fighting lawn pests to fighting mosquitoes and ticks outdoors to prevent insects like ants and millipedes from entering your home, Green Wave Pest Solutions has your back.

Our most popular insect and pest control services include:

Our perimeter pest control services work to eliminate these pests before they can get into your home.

The perimeter pest control program can provide ongoing protection to reduce the risk of waking up ants and spiders crawling across the ground.
Contact Green Wave Pest Solutions for more information.
ENVIRONMENTALLY SAFE PEST CONTROL NV
We use non-toxic, low risk chemicals that are safe for kids and pets! We care about the safety of you, your family, and about the environment as well.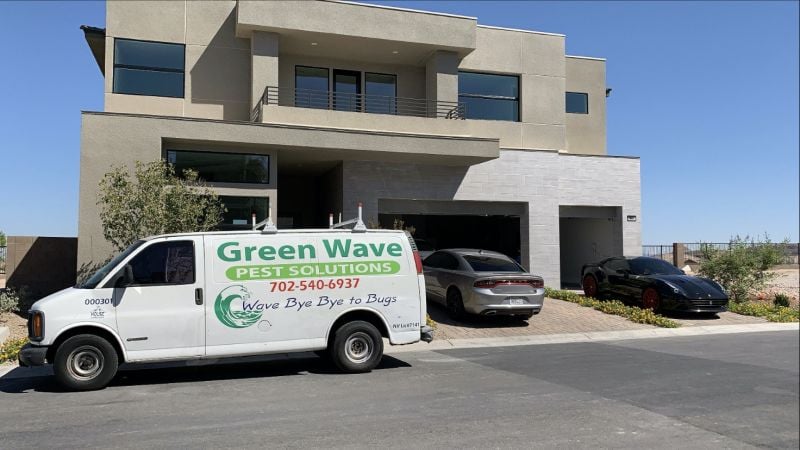 ADVANCED INTEGRATED PEST MANAGEMENT
In Las Vegas, we utilize Integrated Pest Management (IPM) to minimize the exposure to dangerous, unneeded chemical applications for different pest control applications. In the administration of IPM, our extermination and pest control experts are highly qualified. In addition, we remain up to date on the latest IPM techniques and resources to ensure that all pests are exterminated and eliminate their return in the future.
Our customized pest control and management systems can be adapted to suit the requirements of your commercial or residential property and structure, in addition to the above. Most significantly, in all aspects of insect control, rat control and other troublesome critters, such as scorpions and bed bug control, our pest control specialists have been educated and qualified. We can detect whether a problem occurs through routine inspections.
Our Pest Control
Services near Mountains Edge, Nevada
Green Wave Pest Solutions Residential Exterminator
Services
Green Wave Pest Solutions provides Experienced Pest Extermination throughout Nevada. Get a free quote at (702) 540-6937 or contact us. We proudly offer Residential and Commercial Pest Extermination services at very affordable prices.