If you live in an apartment complex, you may be wondering where pest control spray in apartments is needed. After all, you want to live in a space that is free of harmful pests. Pests can spread diseases and cause damage. A pest-free apartment is an ideal environment for you and your tenants. Understanding how pest control services work in an apartment building is important. Listed below are some important facts about these treatments. 
Pests can spread from one apartment to another. If you have found bedbugs in your new apartment, call the management company immediately. Green Wave Pest Solutions is a pest control company can also be called for a consultation. Our professionals can help you identify the pests in your apartment. We will also recommend the best treatment plan to prevent future infestations. You should definitely hire us at Green Wave Pest Solutions to handle your issues.
Green Wave Pest Solutions is an expert pest control company and we will inspect your apartment for pest infestations. We will inspect your apartment for any signs of pest infestation. We will find the root cause of the problem and offer a lasting solution. The company may make multiple visits depending on the severity of the problem.
Pest control services will treat your apartment with pesticides. The chemical used can be harmful to furniture and sensitive materials. It can also cause harm to your children and pets. It is important to ensure that you do not enter your apartment until it is safe. This will minimize your exposure to potentially toxic gases during the spraying process. If you're worried that pests have infested your apartment, don't hesitate to contact a pest control service.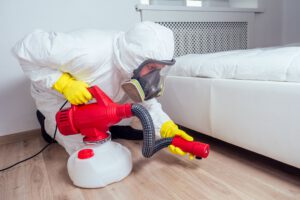 Although pesticides are effective, we're not permanent and will eventually return. It's best to consult with a pest control service before you decide to use a spray in an apartment. This will allow you to get a precise diagnosis and a long-lasting solution. The spraying company will use a wide range of pesticides to treat your apartment. The technician will treat your apartment for any infestations. 
Many apartment buildings require a monthly treatment. It's important to take into consideration the number of residents and the type of pests that reside there. Sometimes, the monthly treatment will be enough. However, bi-annual or quarterly treatments may be necessary. Some companies will recommend a monthly treatment for your apartment complex. These treatments will vary depending on the number of tenants, the size of the building and the level of insect activity.
Pest control in an apartment is a long-term solution. Green Wave Pest Solutions company will spray insecticides on your apartment's exterior as well as interior, and clean the interior. You will have the best results if you have a routine monthly treatment.
A monthly treatment is not enough. It is best to treat your apartment once a quarter. Your apartment should be treated bi-monthly or quarterly for best results. The number of bugs in your apartment will determine the frequency of treatment. For dense multifamily housing, monthly treatments are recommended every six months. For smaller apartment complexes that are well-maintained, a quarterly treatment is recommended. A quarterly treatment will be necessary if the property has more than one resident.
It is important to maintain a clean apartment complex. Pests shouldn't be allowed to enter your home. Bedbugs are one of the many pests that can be attracted to this type of situation. Pest control services can be a smart choice to reduce the risk of getting infested. Whether you live in a condo or an apartment, you can expect quality service with Green Wave Pest Solutions in Las Vegas.