Why Choose Us for Ant Control In Miami?

Ants are typically the most populous pest in the Miami area. An ant invasion in your home can be extremely unsettling. If you're a business owner, the presence of ants can turn customers off and cost you in terms of foregone profits. Don't put up with unwanted ants when Green Wave Pest Solutions can help.
At Green Wave Pest Solutions, our ant extermination services are designed to stop your pest problem at the source using a specialized pest management approach. When you work with us, you'll benefit from the professionalism and attention to detail we bring to the table as each service is customized towards your specific needs. And as a customer, you'll benefit from our:
Reasonable rates
Easy appointment scheduling
Prompt, reliable, and professional crew
Our eco-friendly methods of ant control can include interior spot treatments, gel bait applications, exterior foundational and perimeter treatments, and granular bait applications. If you have an ant problem in your home or business, count on us to break the cycle and prevent future infestations. For more information about our ant extermination services or to set up an appointment, call Green Wave Pest Solutions today.
Ants are easily identifiable in Miami. They consist of a head, thorax, and abdomen. Most ants you see will be workers ants because they're the ones foraging around. They're great communicators and can build colonies of hundreds of thousands of ants.
Ants create long and intricate tunnels beneath the surface to nest in. Nests will commonly have dozens of entrances and exits, making is easy for colonies for move locations quickly. This can make it more difficult to treat the issue, but luckily with our integrated approach to pest management we can solve any pest problem that arises.
Signs You Have an Ant Problem In Miami
Long trails of ants inside or outside the home? Ants crawling around the windows? If you're seeing more than a few ants, there's a good sign there's an ant issue present on the property. Whether it's piles of dirt on the driveway or tiny wood shavings from carpenter ants, Green Wave Pest Solutions has the answers for you. Upon completion of our initial inspection we will formulate an approach to ridding you of your problems and get you living pest free In Miami!
How We Solve Your Ant Problem In Miami
Kitchen cabinets and pantry are the places where you will usually see ant removal efforts. In fact, once an infestation occurs homeowners have experienced first-hand how difficult it can be to get rid of these insects. There are a few common methods to mitigate ant infestations: liquid sprays, gel applications, or granule bait treatments.
Spray Application – a spot treatment around the home's interior may be necessary to prevent activity levels from arising. This spray would be more directed to entry ways, underneath sinks, cracks, and corners.
Gel Application – on the occasion that pest activity is persistent, we may have to use a gel bait. This baiting method acts as a food source and allows the ants to take the bait back to the nesting site.
Power Spray Application – our foundational power spray is an effective method of reducing pest populations on the property. By sealing up the home's foundation and perimeter you can assure that pests won't be able to enter the property lines or enter the home.
Granules – our granulation treatment is ideal for treating hot spots around the exterior foundation. Select high traffic areas will be baited appropriately.
Whether the ants are inside or outside, ask your trusted professionals at Green Wave Pest Solutions about our safe methods of mitigating ant activity on your property today!
Common Types of Ants we Find in Miami
In any area you'll normally find multiple different species of ants residing; fire ants, Argentine ants, pavement ants, and carpenter ants being the most popular. Each of these ant species has unique characteristics that determine how they affect your property and servicing for each species needs to be tailored appropriately.
Fire Ants
Fire ant colonies are typically very large and have multiple queen ants. Once these colonies are disturbed the queen quickly moves the colony to a new nesting site. The bite of a fire ant causes an intense pain that usually shows up instantly. The itch from the sting can last multiple hours. Some people may be allergic to the venom, with the sting affecting the nervous system.
Argentine Ants
Argentine ants are very efficient foragers, usually preferring sucrose-containing sweets. They reproduce through a process known as budding and after mating will leave with a handful of workers to start a new nest. This is the beginning of the formation of super-colonies. These colonies are normally found in moist locations near food sources. If outside conditions aren't favorable the Argentine ants will end up looking for food and shelter indoors.
Pavement Ants
Pavement ants construct nests under sidewalks, foundations, and driveways. They often make their way indoors for food due to the location of their nesting sites which are normally near structures, but their preferred food source is honeydew from aphids and mealybugs, going as far to protect those insects so they could maintain their food source. Pavement ants usually give themselves away because they place any soil removed in a mound near their nesting site, making their site quite noticeable.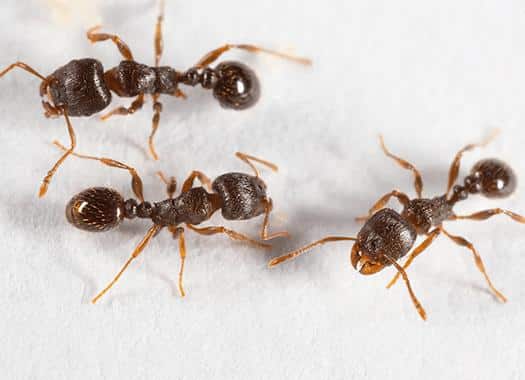 Carpenter Ants
Carpenter ants excavate wood to build nesting sites and this is definitely a cause of concern because they can be structurally damaging. They are the largest of the ants and are either black, brown, or a little lighter in color. Carpenter ants do not eat the wood, but they will leave sawdust pilings near openings. They almost always nest in wood that is soft because of water or decay damage. These ants don't sting, but their large mandibles can produce a mildly painful pinch.
Ant issues arise typically due to poor sanitation. Dirty dishes, messy counters, or crumbs on the floor can all be considered hotspots for ant activity. Once colonies begin to establish, the ant issues can get out of hand quickly. Simply put, ants love food.
Ants have four stages: egg, larvae, pupae, and adult. Ants will spend 1-2 weeks in the egg stage until they move onto the larvae stages, which mostly consists of eating. After the larvae molts and sheds the ant enters the pupae stage. This stage looks like the adult stage, except the pupae start off white and slowly become darker. The adult ant darkens as it gets older and adults are either queens, workers, or males. Adult ants either mate, forage for food, or defend the colony. Some queen ants can live up to 30 years.
Thankfully, only a few species of ants have the ability to sting. With fire ants, it is unfortunate that the sting does stick around for a little while, leaving a welt and potentially causing an allergic reaction. A few other ant species leave painful stings, but it is a rarity in general that a sting causes a reaction that could require medical attention.
Avail
Ant & Anthill Removal

Services By Green Wave Pest Solutions.