Why Choose Us for Cricket Control In Miami
Green Wave Pest Solutions handles a multitude of different pests in Miami. We target crickets with an eco-friendly approach to not only rid you of your current problem, but to also minimize that chance of an infestation in the future! Don't hesitate to give us a call and let your trusted Green Wave professionals do the job for you!
Adult house crickets are light yellowish brown in color with three dark crossbands on their head. They're about ¾ inches in length and have a threadlike antennae that is often longer than its body, and wings that lie flat on its back. Nymphs are wingless but otherwise look similar to adults.
Crickets are found in food handling areas and food storage space areas, in addition to various areas of Miami indoors and out. They are active when the temperature is 70 degrees or higher. They stay alive in lower temperature levels in ideal situations. During warm seasons, household crickets generally live outdoors. With the approach of winter, they look for shelter indoors, specifically in places such as sheds and households. They look for areas of warmth and moistness.
House crickets typically come out during nighttime and normally hide out in dark, warm places during the day. Male household crickets chirp and attract females by rubbing their front wings together. Outside, crickets are brought in by bluish electric lights and can commonly be seen swarming near them in large numbers. They feed on plants and dead or live bugs; they'll even eat each other.
Signs You Have a Cricket Problem In Miami
When crickets locate their way inside houses, they can damage clothes, carpets, and various other fabrics. Materials consisting of wool, cotton, silk, and synthetics are attractive to them.
Spotting a cricket indoors is a sure sign you may have a cricket infestation. They tend to make their way indoors for shelter during the cold months.
Another sign of a cricket infestation would be agricultural damage, as crickets like to damage plants and garden areas with their strong teeth and jaws. Loud chirping is usually a good sign you may have some cricket activity going on.
How We Solve Your Cricket Problem In Miami
If you're experiencing a cricket issue in Miami, call Green Wave Pest Solutions immediately and we'd be more than happy to help identify and treat the problem.
Crickets look for shelter when it starts to get cold outside and finding them indoors isn't all to uncommon. For indoor treatments a spray application may be necessary. Depending on the severity of the situation other baiting products may be of use as well.
When dealing with crickets outdoors we have a few options. The first step is identifying the correct issue, the second step is implementing a proper pest management program to assist with the problem.
Foundational sprays are effective in managing the cricket populations. Using our pet and human friendly products we will create a barrier around the foundation of the home, essentially sealing off any potential entry points for the pest. A perimeter spray will also be done to assure additional cricket populations cannot enter the property. If the problem at hand is extensive, a granular bait will be placed in the yard to help mitigate the issue. Routine pest control maintenance will need to be done on the property to ensure cricket populations stay reduced.
Common Types of Crickets We Find in Miami
House Cricket
House crickets are light brown in color and are typically ¾ inches to an inch long. They consume plant matter and dead insects, but indoors will consume wool, silk, or similar fabrics. They are also known to forage in pantries. These crickets will chirp to find partners and females can lay around 100 eggs after mating.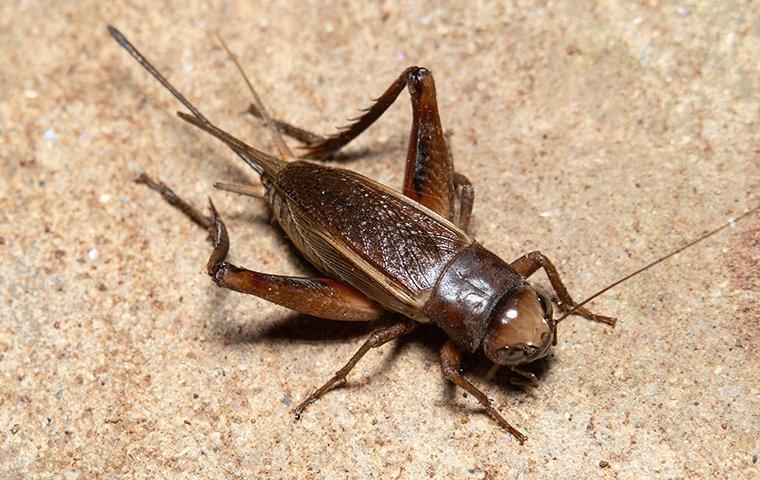 Field Cricket
The field cricket, also known as the black cricket, is roughly the same size as the house cricket. They are given their name because of the destruction caused to field crops and as many as three generations can be produced per year in southern areas. This cricket type isn't usually found indoors and will typically swarm lighting fixtures during the night.
Mole Cricket
Mole crickets are usually 2cm to 4cm in length and they're known to damage grass and turf. During mating season these crickets can travel up to five miles and they are capable of flying. Mole crickets are either two-clawed or four-clawed species, they also use their forelimbs for burrowing.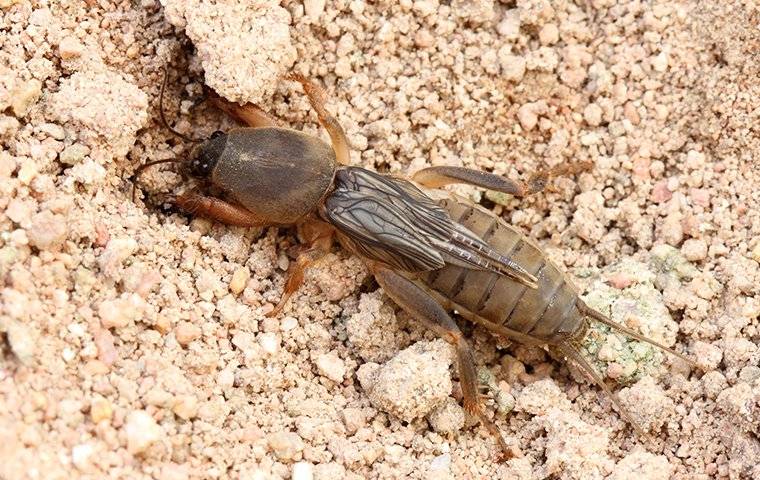 Crickets are more a nuisance than anything. They chirp throughout the night because they're nocturnal. If they're indoors that could be a problem. Aside from that they could cause damage to plants/gardens or indoor fabrics, rugs, etc.
Crickets will make their way indoors under the right conditions. Bright lights near door entrances could provide access, or just having gaps that aren't sealed properly. Moisture inside the home could also be enough to attracts the crickets indoors.
Crickets and grasshoppers look alike so telling them apart could be difficult. A simple way to tell them apart could be their antennae length, as crickets may have an antennae the length of their body and grasshoppers have shorter antennae. Crickets also make noise by rubbing their wings together, where grasshoppers will rub a wing to their leg to product noise.
Avail
Cricket Pest Control

Services By Green Wave Pest Solutions.